From Private Eye
In Private Eye, Issue 1207, out from 4th April, the Nooks and Corners column features a scathing attack by 'Piloti' on English Heritage and the Dyson design.
Private Eye have given Watchdog permission to reproduce the article here until 31 May 2009. This is what it said:
IF English Heritage is at last trying to do the right thing in Liverpool, the same cannot be said of its behaviour in Bath, from where comes news of an inexplicable betrayal.
Remember the scheme to build the Dyson School of Design Innovation designed by Wilkinson Eyre architects on the site of the Newark Works, the former premises of Stothert & Pitt, "cranemakers to the world" (Eyes 1176 and 1195)? This was scuppered when it was realised that the 1850s building was an early work by Thomas Fuller who went on to design the parliament buildings in Ottawa and become chief architect to the Dominion of Canada.
Thanks, in particular, to pressure from the Canadians, the Newark Works were listed, though only at grade II, in 2006. After that, Wilkinson Eyre came up with a scheme retaining part of the listed building, and then it was all off because of problems with Bath Spa University over land ownership.
Now it is on again, despite opposition from the Environment Agency, which points out the South Quays site by the Avon is liable to flood, as well as from the Victorian Society and Bath Heritage Watchdog.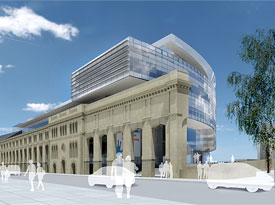 No wonder: the scheme involves demolishing most of the building and mutilating what is suffered to remain: that is, the principal fašade. The stone Classical front will be rendered ludicrous and illiterate by having great chunks cut out of its massive battered plinth to make an open arcade. Yet English Heritage, whose task it is to protect our historic environment, changed its mind and raised no objection to this barbarism.
Bath & North East Somerset Council has now approved the scheme. However, because of the Environment Agency's opposition, there may have to be a public inquiry. And there should be: The Dyson scheme is dreadful. It is what you get when fashionable High Tec architects have to cope with a solid masonry building they neither understand nor respect - in this case leaving its fine facade isolated, meaningless and trivialised. Such, alas, is the "Constructive Conservation" English Heritage now seems desperate to be identified with.
'Piloti'
Reproduced by kind permission of Private Eye magazine
www.private-eye.co.uk