Charlie Ware
Born 8 November 1935, died 4 July 2015
Obituary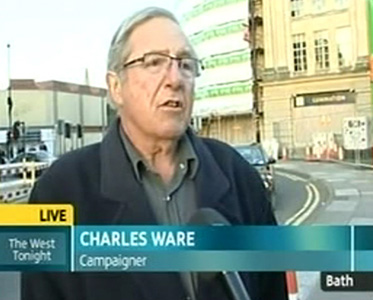 We were saddened to read the Chronicle obituary for Charlie Ware, and a similar one in the Western Daily Press. Our connection with him dates back to 2007 when Charlie and some of our founder members were taking an active part in the Save Churchill House Campaign. Charlie was a well-known local businessman and was therefore interviewed by TV reporters on several occasions during the course of the campaign, whilst others in the campaign organised rallies, demonstrations, and an 11,000 name petition which was presented to the council at the end of a march through the city to the Guildhall with protest banners.
Behind the scenes Charlie funded legal advice which explored whether there was a legal remedy to the Churchill House planning row. Unfortunately the Bath Court ruled that it could not grant an injunction preventing the demolition; and the High Court refused permission for a Judicial Review of the planning decision. Bizarrely, the planning legislation only requires councils to make planning decisions in the specified format, and places no obligation on the decision makers to make decisions that are appropriate, or even sensible. The High Court could not therefore rule whether the decision to demolish Churchill House was good or bad, so refused the application on the grounds that there was no point in conducting a Judicial Review which could have no decisive outcome.
It clearly was considered bad though: Don Foster, Bath's MP at the time, appeared in a TV interview in which he described the "busometer" as "Absolutely hideous; inappropriate for Bath" (something to reflect on every time you see the "busometer"). We have extracted his quote from a recording of that interview held in our archives. Also in those archives is a record of the false claims made to justify the demolition (that the bendy buses would be unable to get into the bus station because Churchill House was in the way). The bendy buses never have used the bus station (they are too long for the bays so the bus station was not designed to accommodate them), and the building behind the busometer has a larger footprint than Churchill House (and so it had to have been designed to be even more in the way, proving that Churchill House could have been retained). Charlie had scale drawings made which confirmed this.
The two newspaper articles will eventually be removed from the online archives of the two newspapers, so we have stored the text so that they can then be added to this page for a permanent record.